About us
Hunt Smart Productions, LLC
Cheyenne's Story
To read about her battle with cancer and her last season a field, click here.
"CJ's Autumn Cheyenne passes away"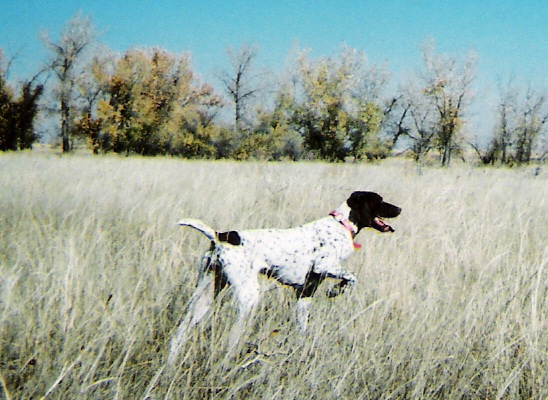 Cheyenne, Goodbye to My Loving and Loyal Best Friend
By C. J. Kausel
It is 6:05 am on December 31, 2010. At 2:47 am my dear girl finally lost her battle with cancer. She was only 8 years old and should have been enjoying the prime of her life. Oh what a noble fight she put up.
In July of 2009 she was diagnosed with a mast cell tumor on her right front foot, second toe from the right. My veterinarian stated that it was in a bad spot and recommended Colorado State University, Animal Cancer Center to perform the surgery.
Good friend, Bob Hix, suggested having his vet father look at the toe. His conclusion was the same. So off to CSU we went. We were greeted warmly and Dr. Stephen Withrow took the case. Dr. Withrow was the Director of the Oncology Center at CSU. (He has since semi-retired). He did a marvelous job explaining the situation, making my extreme anxiety subside. He removed the tumor with such precision you would never know it had ever been there. He prescribed chemotherapy as the margin around the tumor was minimal. Cheyenne responded very well to the treatments.
A couple weeks later I noticed another tumor on her left side. Again, the prognosis was a mast cell tumor and again we had it removed. We had plenty of margin this time. She continued to respond well to the treatments.
After a few weeks she was given approval to run which we did on a daily basis in the park.  She ran like the wind just like she always did before her surgery. She covered the ground like a cheetah chasing a gazelle. Oh, how I enjoyed her magnificent gate a field.
Her chemotherapy continued into November when her tests all came back negative. She was given the clearance to resume extensive training and hunting.
Cheyenne never lost a beat. It was late afternoon as we returned to our favorite field for our first training session in weeks. She pointed as staunchly as the soldier on watch at Arlington. The late afternoon sun shown over the mountains with as gold a glow as the one I felt in my heart. She pointed that first chukar with a slam that is still etched into my memory. As I moved in for the flush, her eyes were straight ahead fixated on the spot where the scent rose to her nose.  I kicked the cover where the bird had blended in like a magician's disappearing act. Out the bird came wings beating the wind to gain flight. Cheyenne remained  statuesque as the bird flew in front of her, steady to wing and marking the flight as I raised my gun. As the front of my barrel passed through the bird I squeezed the trigger ever so lightly.
The shot rang out and the bird folded and dropped to the ground. Cheyenne stared at the spot where the bird had fallen, waiting for my signal to retrieve. Two short whistle blasts had her off in a line. Arriving at the fallen chukar, she reached down and took the bird in her mouth, did her famous two little bites and turned towards me with head held high.
On a line she came. She came to my right around behind me to heel at my left side; just like she had done so many many times before.
Upon my "give" command, she placed the bird ever so softly into my outstretched hand. At that moment I went to my knees and burst into tears, So thankful the Good Lord had returned her to health and to me.
We enjoyed many a fine day hunting pheasants in Colorado and Nebraska. She was a "star in the field" on all those hunts. On one day near Cheyenne wells, she made a magnificent point. The big rooster flushed up in front of me, his gorgeous colors gleaming in the afternoon sun. Cheyenne had presented me with a shot like the textbook photos in a good upland magazine. I raised my gun and shot twice as the bird flew into the sunset. The bird continued its flight, never missing a wing beat. Cheyenne turned and stared at me with a look that said, " What's up with you!" I hugged her and said, " Honey you did your job, I just didn't do mine". She turned as I released her and continued to hunt hard, quartering with grace as we closed out the day with a rooster who did not get away. We closed the 2009-2010 season with a great hunt and looked forward to the 2010-2011 season with great anticipation.
Cheyenne's recovery was going so well, I decided to breed her with an outstanding male, Cody, belonging to good friend Gary Lillie. She came into heat the first part of February. Our field trial season at Colorado Gun Dog Association was just to start that weekend. In fact Cheyenne and I were entered to run a early morning brace. We scratched her as she was in heat. I ran Cody and he qualified that day to run in the semi finals at years end. Little did I know that Cheyenne would never run in another field trial again.
She became pregnant and on April 14th, delivered eight (8) of the most beautiful pups you could lay your eyes upon; three (3) males and (5) females. She delivered by C-section as the xray showed all pups would have been born breach. Dr. Beattie did a marvelous job and mom and pups came through with flying colors. I had a chance to help and be with Cheyenne in the delivery room and what a wonderful experience. I never had that chance when my kids were born as it was not allowed at that time. We rubbed the pups and got them breathing and cleaned them all off as Cheyenne recovered. I gazed into Cheyenne's eyes and she looked up at me with the love only her eyes could display. What a grand event! Cheyenne, pups and I all went home. I placed the pups into the whelping box and she began to nurse and clean up after her pups immediately. She was a tremendous mom just like she was a tremendous dog a field. The pups grew rapidly and were all just beautiful. I knew I was going to have a hard time picking my pup from the litter. I had decided to take a female, so that narrowed it down a bit. I will tell you about how I came to that decision at another time. I will tell you her name, Shawnee.
Things went well all spring and summer and Cheyenne weaned her pups at six (6) weeks just like the book says. We will hold off on the pup's story until another time as well as I think you will enjoy the pup raising process.
The fall season came and we both looked forward to another great year of hunting together. Our season started with our annual trek to the Steamboat Spring area to hunt Blue and Columbian Sharptail Grouse. We were not disappointed as on the first day Cheyenne pointed several of the "dusky" fellows and we placed two nice males into the bag. If you have never hunted Blues over a dog, they are not the seeming "dumb" birds you come across during the deer and elk season. No, they react to your dog by flushing and flying through the trees in a similar manner as their eastern cousins, the Ruffed Grouse.  Cheyenne worked hard for two days. We took plenty of rest and water during the day as they were warm to down right hot. We take the afternoons off, stopping our hunts around 11 am and resuming around 5 pm as the sun gets lower on the horizon. I noticed that she was not eating too well and was losing weight. We made the decision not to hunt the third day as we were going to be at camp for five (5) days.
The two friends who joined me are excellent musicians, one on guitar and mandolin and the other one of the most gifted guitar pickers I have had the chance to know. Then there was me. I do play a little guitar and Mandolin as well but could really "fake it" nicely with the two experts on board. We took the day and played music while Cheyenne laid at our feet and loafed the day through. She truly deserved the rest with what she had been through the past year.
The next morning broke nice and clear ( and too dry ). We all headed out and Cheyenne was ready to go. She could not wait to get going. It seemed she was saying, "This is my last time up here so let us make the most of it". We did and though the birds were not plentiful, she was magnificent covering up and down the slope crossing the game trails that make it easier for me to walk. She made an excellent point on a bird that we previously flushed and I dropped the left to right crossing Blue with one, 40 yard shot from my well worn 12 gauge over and under. A Browning with a twin barrel set, that I had purchased in 1973 for $ 413. Boy, how things have changed!  Three of us ended up with 17 blues for the trip. Not stellar as far as bag limits go. However, a totally magnificent trip as it gives me memories of Cheyenne's last blue grouse hunt.
October came and off to Nebraska for the opener. Gary Lillie and Cody joined us for the hunt. What an experience we had!  We headed into our second field. (The first, a truly wonderful shelter belt, was posted "no hunting" and we could not reach the land owner.) We saw several Pheasants fly into the field as we arrived. We planned our attack and proceeded with the approach. I released Cheyenne and she went on point within 30 feet! That's right, 30 feet! Up jump two roosters and I connect on one of them. Then several more roosters and hens flush as Cheyenne is making a beautiful retrieve to hand. They are coming up around us as I frantically try and reload. It was like a movie scene when the director releases a flock of birds into the action. I take a long shot at a high flyer pushed by our guys on the other end of the field. I lead the bird by at least 4 feet and, whoa and behold, it tumbles out of the sky. I had to say I was pleased about that shot. Not so much that I made a good shot, but because Cheyenne made a 100 yard retrieve through almost head high cover to bring the big rooster to me. His spurs were ivory tipped and as sharp as a needle.
When we were through with that field we estimated at least 300 pheasants flew out. Gary, remember he is from South Dakota, said, "That is as many pheasants that I have ever seen coming out of a single field!" The best thing is that Cheyenne saw and was a part of it too! The next day was as splendid as the first and Cheyenne again was a star. Friend Darryl Daggen and I were hunting with two young lads we met on the trip. They, in fact, invited us to hunt this particular field as they were local and had no dog. Funny how that works sometimes.
I cast Cheyenne into some nice roosting cover that bordered a picked cornfield. She immediately became" birdy" and locked up right in front of Darryl. He moved in and the big beautiful rooster flushed on a path straight away. The crack of the gun echoed across the field and the bird became part of a weekend that Cheyenne made truly memorable for us all. To close things off she found some quail for us. What a treat to see a covey rise in front of one of her absolutely perfect points.
Two weekends later we hunted the Colorado opener and pheasants again were on the menu. Cheyenne covered those fields with the grace and charm of the true field champion she was. Our harvest of birds was not the story here. No, it was the finishing touches of a harvest of memories that will live with me as long as I can take a breath. The following week she became sick again and to Dr. Sheri Beattie we went. This time the prognosis was her liver and it was not good. She managed to fight on past Christmas.
On Christmas Eve and Christmas Day we went on the last hunt where she would produce birds. Yes, they were pen raised Chukars. Yet, oh how she performed. Staunch on point, steady to wing and shot and 5 wonderful retrieves to hand. She topped things off by honoring the point of the wonderful pup she presented to me last April. Christmas Day was a repeat performance in every way.
I close with the chorus from the song I wrote for her four years ago.
" Cheyenne, my German Shorthair as sweet as She can be.
   She is as true and loyal friend as one could ever be.
   Cheyenne, my German Shorthair as sweet as She can be.
   She has the biggest heart and She gives it all to me.
   Yes, She has the biggest heart and She gives it all to me!
The song is titled "Cheyenne" and I sang it to her as she lay dying on my bed this morning. I sang it twice and she raised her head up to me and then passed away in my arms.
God Bless you my love and I will never forget you or the bond that we had. Goodbye my best friend and my love.

May 25, 2002 to December 31, 2010
After a year and 1/2 battle with cancer, Cheyenne passed away at 2:47 am on December 31st. She was a true field champion and was the "Star" in the many dog demonstrations and seminars given by Hunt Smart Productions.
---
Who Are We?
What Do We Do?
Our company was originally created in 2005 to provide hunting and dog training instruction for the "Do It Yourself" sportsman and sportswoman who believes in fair chase hunting. Our focus is to provide hunters and sporting dog owners with the information necessary to help them to become more successful in their hunting and dog training efforts. To achieve this we developed several seminars and corresponding DVD programs. We will continue to create and add more programs to our library.
Since our inception we have added guided hunts, dog demonstrations and dog training to our services. Our dog training programs are somewhat unique in that we train the dog owner to train their dog(s) rather than board and train the dog for them.  Also, we provide marketing assistance to companies, groups and organizations through sponsorships and promotional videography. We invite you to browse our web site to learn more about our programs and services.